The Club at Paradise Point, An All-Hands Venue, is thrilled to announce a new restaurant and bar. The Wooden Nickel is now open and ready to serve you with our delicious food and beverages.
Located in The Club at Paradise Point, The Wooden Nickel features a wide range of cuisines and drinks. We offer everything from classic burgers to the Nickel Special to exclusive Chef's Creation entrées. Everything is scratch-made using only the freshest and finest ingredients. With a menu that changes every week, you will get the chance to sample a variety of offerings.
Dining out isn't just about eating good food – it's also about having a great experience! You'll enjoy both at The Wooden Nickel! Whether you're enjoying a meal with your family or having a drink after work, you'll find the environment both comfortable and welcoming.
All hands welcome! We look forward to seeing you soon!
Stay up-to-date with our menu by joining our Facebook group.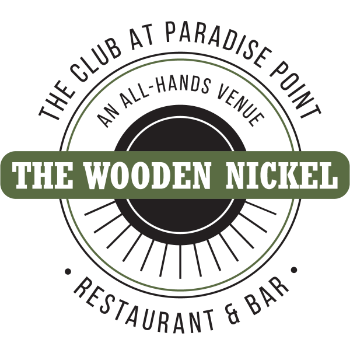 MENU
Nov. 29-Dec. 1
Appetizers
Wings $12
(10 pieces, choice of mild, hot or BBQ sauce)

Loaded Fries $8 Mozzarella Sticks $8
Fried Pickles $8 Onion Rings $6
Cheese Curds $8.50
Simba or Coasties Wings $12
Entrées
Served with choice of fries, onion rings, or a side salad.
Chicken Sandwich $12
Burger $13
Vegetarian options available.
Chicken or Shrimp Soft Tacos $13
served with your choice of fries, onion rings, or salad
Chicken Bacon Ranch Wrap $13
served with your choice of fries, onion rings, or salad
Nickel Special
Quesadilla $12.05
cheese, chicken or steak
Chef's Creation
Firecracker Shrimp Wrap $13
served with your choice of fries, onion rings, or salad
Drinks
Soda $2
Tea $2
Desserts
Sundae $5
Cake $6
Pie $6

Here's a perk that can't be beat – save your nickels for a treat!

Our weekly specials are the best! We'd love for you to be our guest!
Kids Meals
Dine & Design Build-Your-Own Pizza $7
Chicken Tenders $5.25
Mac & Cheese $4.25
All kids meals served with apple sauce or mandarin oranges.
Hours
Sunday - Tuesday
CLOSED
Wednesday & Thursday
4:30 - 8PM
Friday
4:30 - 9PM
Saturday
CLOSED
Holiday hours may vary.