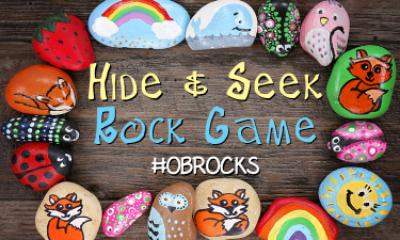 Ways to play our Hide & Seek Rock Game! Open for everyone to join in on the fun.
CREATE your rock!
Step 1 - PAINT a rock.

Step 2 - LABEL your rock.
Be sure to use our hashtags on your rocks #OBROCKS & #KINDNESSROCKS Keep in mind that even if you write this on the back of your rocks, only about 10% of rocks will get marked found. If you joined a local rock painting group on Facebook, leave the name of your group so the finder can post in the group that they found it.

Step 3 - SEAL your rock.
You have to plan for your rock to eventually be exposed to the weather. Sealing your rock will protect the artwork and make sure the art stays on the rock and doesn't end up on someone's hands. Most of the time, sealing rocks with a clear spray sealer is going to be your best bet.

Step 4 - HIDE your rock!
Popular places for hiding rocks include local parks, parking lots or outside business establishments.
Rules for SEEKING Rocks:
Time to look far and wide for rocks that have been hidden.
Step 1 - EXAMINE your rock. Check for writing or labels. Look for hashtags or instructions on the back of the rocks.

Step 2 - POST your rock to our Facebook Onslow Beach Rocks Album and mark it found at (Onslow Beach) add #OBROCKS & #KINDNESSROCKS. Find us on Facebook at facebook.com/onslowbeach

Step 3 - Choose to KEEP or REHIDE the Rock. (You can hide them again at your next destination)

Step 4 - FOLLOW our Facebook page to see how far these rocks travel throughout the world.

Play on pristine sandy beaches caressed by clear seas. Spend your family vacation or weekend getaway at one of our various rental lodging units or at the RV Campground. Onslow Beach offers 3, 4, and 7 night rental housing options. During your stay, enjoy an array of exciting and fun activities for adults and children of all ages.
Onslow Beach also offers a Marine Mart (Convenience Store), pavilions with changing rooms, volleyball courts, basketball courts, guarded swimming areas (Memorial Day to Labor Day) and conference rooms ideal for any special event. Your dog is welcome at Onslow Beach! We offer a number of pet friendly units and a dog beach (located on the South end of the island) where you can spend quality time frolicking on the beach and surf with your furry family members. Just wanting to escape for a couple of hours? Onslow Beach is open to all authorized patrons and promises unforgettable fun for all!
Reservations will not be taken electronically. If you wish to make reservations you must call our Reservation Line.
We ask that patrons adhere to all posted signs and caution areas. Please note, rules and Regulations will be strictly enforced and maybe punishable under the UCMJ. In accordance with MCIEAST-MCB CAMLEJO 1710.2A, failure to follow posted warnings and signs can result in forcible removal from Onslow Beach by the Camp Lejeune Police.
Guest Services Hours
Sunday
9AM - 5PM
Monday - Friday
8AM - 6PM
Saturday
9AM - 5PM
Holiday hours may vary.