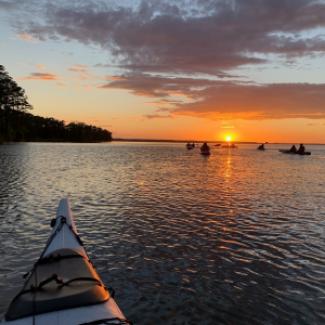 Outdoor Adventures
Outdoor Adventures hosts a variety of recreational activities including Unit Recreation, Youth Summer Camps, Kayak Tours, Archery events and more! We also offer outdoor facility rentals such as Hospital Point Picnic Area and Orde Pond Picnic Area as well as 7 primitive campsites at our Brewster Recreation Area. Check out our calendar below for our upcoming events!
Unit Recreation
Customize your outdoor recreation experience with Mountain Biking, Archery Tag, Kayaking or GelBlaster! Each activity is designed to assist with building resiliency, unit cohesion, morale, teamwork, physical fitness, and communication. Sessions are 90 minutes long and must be scheduled at least a week in advance. Minimum group size is 10 participants. Call for details.
Outdoor Recreation Party Packages
Choose from Gel Blasters, Archery Tag, and the Mobile Rock Wall. Available on Camp Lejeune and New River Air Station. Learn More.
Hours
Sunday
CLOSED
Monday
8AM - 3PM
Tuesday
Noon - 3PM
Wednesday
CLOSED
Thursday & Friday
8AM - 4PM
Saturday
8AM - 2PM
Holiday hours may vary.
Features
6 primitive tent camping spaces
1 group campsite
Canoe & kayak launch
Potable water & port-a-john toilets
Most of the campsites are equipped with a picnic shelter, picnic table, and fire ring.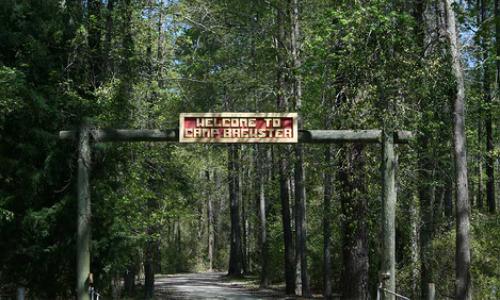 Reservations & Pricing
• Reservations must be made at least 48 hours prior to date requested.
• Reservations aren't confirmed until payment is received. Payment may be made at the Outdoor Adventures Office.
Pricing
Single site (12 people)
$15
Group site (40 people)
$30
Check-in & Checkout
Check-in
after 12PM
Check-out
before 11AM
On your own
Please contact the Outdoor Recreation Office with your check-in time. If late checkout is needed, please make arrangements in advance.
Rules & Regulations
All individuals are to adhere to the Leave No Trace principles.
Pets must remain under the guest's control and in sight at all times.
Owners are responsible for their pet's behavior.
Please clean up after your pet at all times
Children under the age of 10 must be supervised at all times.
Quiet hours are between 10PM - 6AM. No excessive noise will be permitted at any time.
Emergency Information
Base Emergency
911
Base Emergency Communication Center
910.451.3004
Fire Permits
Ground fires are allowed in a fire ring with a hot works permit given by the base Fire Marshall. Fires are only permitted in assigned areas.
In order to receive a Hot Works Permit you must have the following items on your site:
Bucket of water (5 gallons)
Rack or shovel
---
Permits will not be given under the following conditions:
If the National Weather Service issues a red flag for burning
When the base is in a Class V Fire Condition
---
To apply for a Hot Works permit, please contact the base Fire Marshall at 910.451.3004.
Picnic Area Reservations:
Great for Birthday Parties, Cookouts, Farewells, Retirements, Baby Showers, or Reunions
$50 per day
Covered Shelters
Maximum Capacity 300
Reservations can be made by calling or emailing.
2 Locations
Hospital Point Picnic Area
Orde Pond Picnic Area

Picnic area open for daytime use only.
Fishing
Marine Corps Base Camp Lejeune offers a variety of fishing opportunities for the hobbyist angler. Ocean front, inlet and fresh water areas are available for fishing. Information concerning these areas can be obtained from the facilities below:
| | |
| --- | --- |
| Gottschalk Marina | 910.451.8307 |
| Base Game Warden | 910.451.2196 |
Rules of Conduct
Always pick-up litter and deposit it in an approved trash receptacle.
Never spade or dig bait along shoreline that can lead to soil erosion.
Only use rowboats, canoes, or boats powered by electric trolling motors within the Base Ponds, to decrease the effect of pollution.
It is everyone's responsibility to ensure that our natural resources remain in good order for the next recreational fisherman to enjoy.
Fishing Ponds
Camp Lejeune currently maintains eight ponds, 46.5 acres total, which are managed by the Fish and Wildlife Section of the Environmental Management Division.
| Name | Acreage | Species* |
| --- | --- | --- |
| Cedar Point Pond | 2.0 | BL, BA |
| Henderson Pond | 14.0 | BL, BA |
| Hickory Pond | 5.5 | BL, BA |
| Mile Hammock Bay Pond | 1.5 | BL, BA |
| Orde Pond | 3.0 | BL, BA |
| Ward Pond | 1.5 | BL, BA |
| Old Landfill Pond | 17.5 | BA, C |
* BL= Bluegill, BA=Bass, C=Channel Catfish
Fishing Permits & Licenses
Licenses (Required for individuals 16 years or older)
Any individuals 16 years or older who want to recreationally fish in any water designated as coastal or joint waters of North Carolina must purchase a NC Coastal Recreational Fishing License (CRFL). Fishing licenses can be obtained at the New River Marina.
Base Fishing Permits
Current Base Order requires anyone over the age of 16 that wants to fish to have a NC state fishing license and a base fishing permit. Children under the age of 16 do not need a state fishing license nor a base fishing permit but must be accompanied by a parent or guardian.
Base Fishing Permits