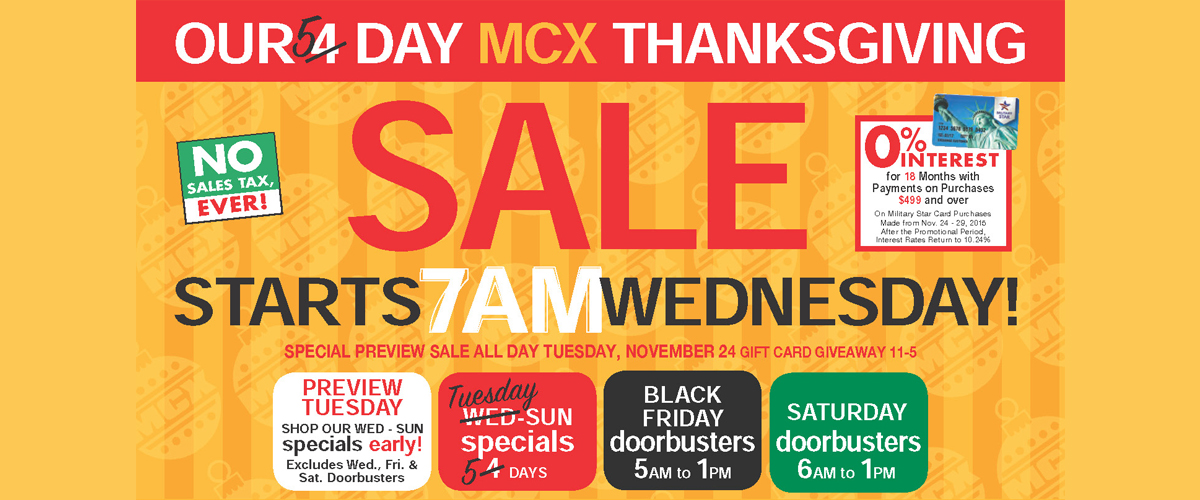 ---
There are many great reasons to shop at the MCX, but here are a few of the top reasons there is no better place for you to shop this holiday season!
6 WAYS TO SAVE: Start off your week of shopping by applying for a Military Star card. New applicants will receive 10% off their ENTIRE PURCHASE the first day they use the card, so save it for the Thanksgiving Sale! There will also be an 18 month, zero interest financing promotion on purchases over $499 during the big sale, when using your Military Star Card! Next, don't miss the MCX Early Cyber Monday sale (starting Monday, November 23rd at 9am ET), where you can get FREE bonus EGift cards whenever you purchase an MCX EGift card. Visit the MCX EGift Card storefront here. Following that, join the fun during the first day of sales, "Preview Tuesday" (November 24th), where MCX will be giving away MCX gift cards in the store every hour between 11am-5pm! Wednesday, take advantage of the "beat the rush coupon" which will save you $5 on a $50 purchase, $10 on a $100 purchase and $25 on a $200 purchase! Finally, on Black Friday during the early openings, get in line and snap a selfie in front of the MCX to be entered to instantly win up to a $100 MCX EGift card on the spot!
5 DAYS TO SAVE: Our biggest sale of the year starts Tuesday, November 24th, giving you 5 days to save. We'll be closed on Thanksgiving Day, allowing you to stay home and enjoy the time with your family. Don't worry - as mentioned above, MCX will price match any competitors Thanksgiving or Black Friday ads, so you won't be missing a thing!
PRICE MATCH: The MCX will price match ANY competitor's Thanksgiving or Black Friday ad. On top of that, the newly revamped price match policy is one of the most generous you will find.
SUPPORT THE MARINE CORPS COMMUNITY: Did you know that the revenue generated at the MCX directly funds Marine Corps Quality of Life programs? When you shop at the MCX, you're not only saving money, you are GIVING money to important programs that need it!
TAX FREE SHOPPING: Let's face it, when you're making a $5 purchase, this may not matter much, but during the biggest shopping extravaganza of the year, you're sure to save a bundle on tax alone!
So get ready, Plan Your Attack, and check out the full sale ad here!