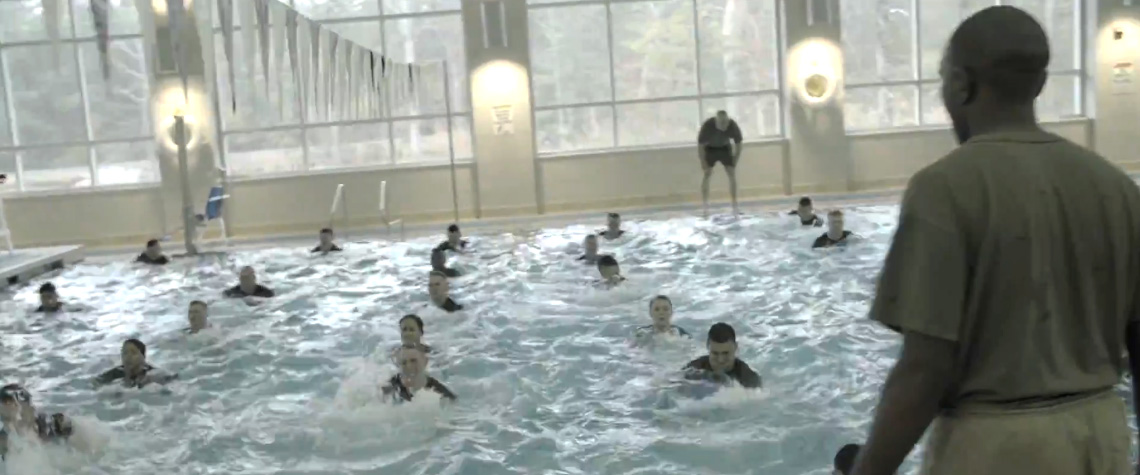 ---
On July 1st the Marine Corps new fitness rules were announced in the Marine Administrative Message (MARADMIN) 022/16. The MARADMIN was signed by Commandant Gen. Robert Neller, who has called for an overhaul of the Marine Corps programs in Combat Fitness, Physical Fitness Test, and annual requirements.
One way to meet these new fitness standards is to participate in Aquatics Maximum Power Intensity Training (AMP-IT), an in-water physical training program that is appropriate for Marines of all fitness levels. The program is conducive to the reconditioning of injuries and allows the full duty Marine to physically train in the water in the same way as he would on land.
AMP-IT focuses on two primary components: deep water interval running and muscular conditioning. AMP-IT incorporates different exercises which can reduce skeletal strain and reduce the likelihood of injury while improving physical fitness.
Participating in strength training in the water can help increase your performance during the pushup/pull up component of the PFT. According to studies, aquatic resistance exercises using aquatic devices can create a greater cardiovascular and metabolic response than dry-land resistance exercises with elastic bands. This is because water is thicker than air, so the natural resistance helps strengthen muscles and joints.
AMP-IT has also been known to aid in weight loss and strengthen muscles. One of the primary components of the program is deep water running, which provides a cardiovascular benefit as well as muscle toning which is enhanced by the resistance of the water in both directions. Participating in AMP-IT and deep water running helps decrease land running time because athletes can work out at a higher intensity in the water without the on-set of fatigue. Due to the cooler temperature and the pressure of the water on your body, your heart rate will be lower than it is when running on land. This will enable you to complete tougher workouts while needing minimal recovery time afterward.
AMP-IT is unique in that it was specifically designed to meet the strict physical demands of the Marine Corps so following the training is sure to help you improve your PFT score.
All Marine Corps installations have numerous civilian and active duty instructors, so contact your installation's Aquatics Specialist to find a trained AMP-IT instructor near you.