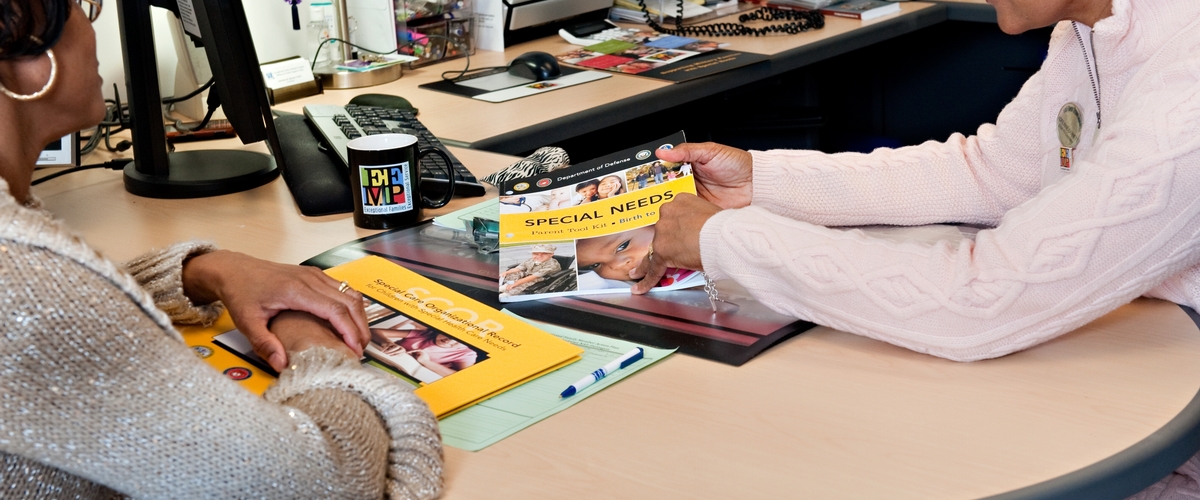 ---
The Exceptional Family Member Program (EFMP) is a Department of Defense mandatory enrollment program for military family members who have special medical and/or educational requirements. The program is designed to help coordinate Permanent Change of Station (PCS) assignments to locations where family members with a diagnosed medical or educational need will have access to required care.
A 2007-2008 Marine Corps EFMP Functionality Assessment showed 70 percent of Marines had a perceived negative stigma associated with EFMP enrollment. At that time, the respondents indicated that enrollment limited assignment opportunities, which were critical for individual career progression and, therefore, promotion.
Following the Functionality Assessment, the Marine Corps removed the use of EFMP categories, with their pre-determined geographic assignment restrictions, and established the Informed Assignment Review process. With this change, all EFMP-enrolled Marines became eligible for worldwide assignment. Assignments were recommended when individual needs could be met by the existing resources and capabilities of the proposed assignment location.
Since transformation of the program and implementation of the Informed Assignment Review process, EFMP enrollment has increased more than 90 percent, expanding from 4,500 enrolled Marines in 2008, to more than 8,600 today. A 2011 Naval Audit Service Report showed that the perceived negative stigma associated with EFMP enrollment had decreased from 70 percent to 30 percent.
Lieutenant Colonel Brian Duplessis thought EFMP enrollment might negatively impact his career until he began receiving care. "When your family is taken care of, you can better focus on taking care of yourself and your Marines," said Duplessis. "Enrollment has allowed me to carry on my career without interruption, meeting all milestones. I know wherever I am, deployed or stationed overseas, that my family is getting the best care available."
The Marine Corps Operational Analysis Division recently concluded a study to learn whether there is any data to support the belief that enrollment in EFMP negatively impacts the individual career progression and promotion of Marines. The study looked at career length, highest grade achieved, and time to achieve said grade. 20,692 EFMP participants (March 1989 through December 2015) were matched to all nonparticipants who were an exact duplicate, at the time of enrollment, for the following six characteristics: age, sex, race, years of service, grade, and occupational field.
Using the most rigorous analysis available, the study determined there was little evidence of any negative impact of EFMP enrollment on Marine career progression and promotion. The career length of EFMP enrollees is, on average, slightly longer than non-EFMP active duty Marines. It also found EFMP enrollment has no distinguishable impact on highest grade achieved. The majority of EFMP-enrolled Marines achieve their high grade in the same or shorter amount of time than the average of their non-enrolled matched peers.
Gunnery Sergeant Jesus Cruz-Rosario's perceptions have changed since being promoted. "I am looking to get promoted again soon," said Cruz-Rosario "I have deployed multiple times since I have been enrolled in EFMP and my Family Case Worker is devoted to my family's well-being and readiness. Enrollment to EFMP has not negatively impacted my career progression and promotion."
Family Case Workers are best able to support the unique needs of each family. While the Family Case Worker will contact each family quarterly, through a combination of phone, email or in-person visits, families are always encouraged to contact their Family Case Worker whenever they need or desire assistance. If you have a family member with medical or educational needs, please contact your local EFMP office. To learn more about the EFMP and the variety of services they provide, click here. To read the complete report, please visit the Manpower and Reserve Affairs website at https://go.usa.gov/xXRky.