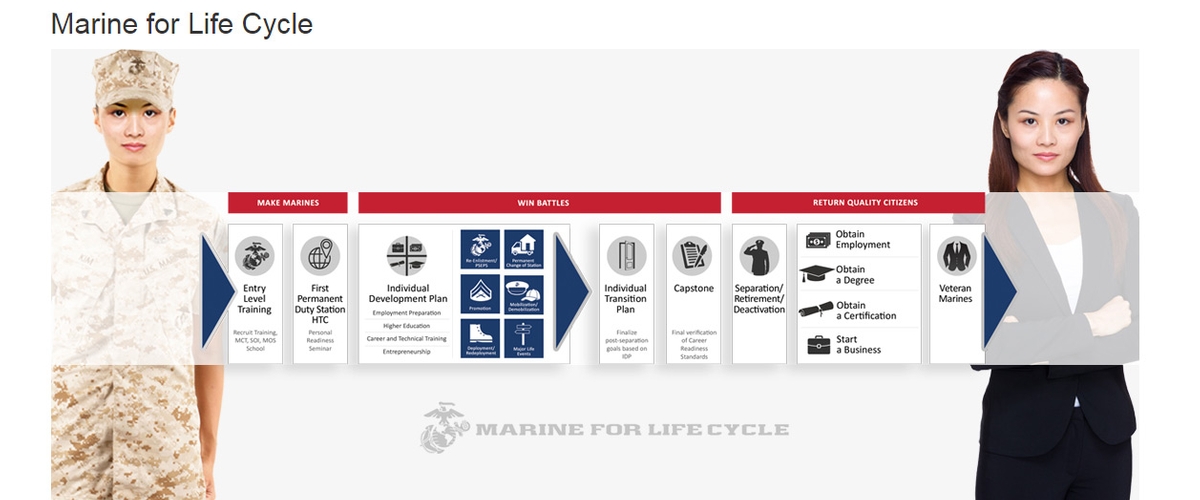 ---
When you need to find online Marine Corps resources, where do you turn first? If your initial response isn't Marine OnLine, then it should be.
In addition to resources on unit training, pay and compensation, you can find many great resources pertaining to personal and professional development all in one location in the areas of Transition Readiness, Credentialing, Voluntary Education, and the Leadership Scholar Program and the "New" Blended Retirement System website.
Valuable resources available include:
Marine For Life Cycle: The Marine For Life Cycle (M4LC) supports your continuum of learning and experience based opportunities during your Marine Corps career. As you navigate the M4LC, you can engage in self-exploration, self-awareness, make life decisions, and develop holistic action plans while gaining knowledge and performing essential tasks to bridge the gap between your time in uniform and your goals as a Veteran Marine. Select this link to explore the "Things You Need to Know" and "Things You Need to Do" throughout each Action Point of your career.
Department of Defense (DoD) Transition Assistance Program and eForm: The Transition Readiness Program implements a comprehensive transition and employment assistance program that emphasizes a proactive approach that will enable you to formulate effective post-transition employment, educational, and entrepreneurial goals. Use this link to access the eForm (DD2648) and your DoD self-service transition dashboard, which provides "in progress" or "completed" transition workshops, and other documents such as your VMET.
Web Tuition Assistance (WebTA): A process that allows qualified Marines to use paperless technology to efficiently request TA. The Marine sends his/her request for courses to their command - ONLINE. The command approves the Marine for taking courses and forwards the request to the Education Office via the portal. The Education Office approves TA by electronic signature. The Marine prints and delivers their TA Authorization to their school.
Marine Corps Credentialing Opportunities On-Line (COOL): COOL is an awareness and information resource to support Marines in their personal and professional development by linking them with certifications and licenses related to their Military Occupational Specialties (MOS). As of July 2015, the Marine Corps is paying for examination fees and annual maintenance for enlisted Marines to earn civilian/industry credentials which are closely aligned with their MOS.
The Leadership Scholar Program: Formed with the express purpose of providing assistance in accelerating the admission of qualified Marines to four year, not-for-profit, colleges and universities across the nation, in an effort to offer the most expeditious route for attainment of your respective educational goals as you transition from active duty to the private sector.
Check these resources out and more at Marine OnLine today!