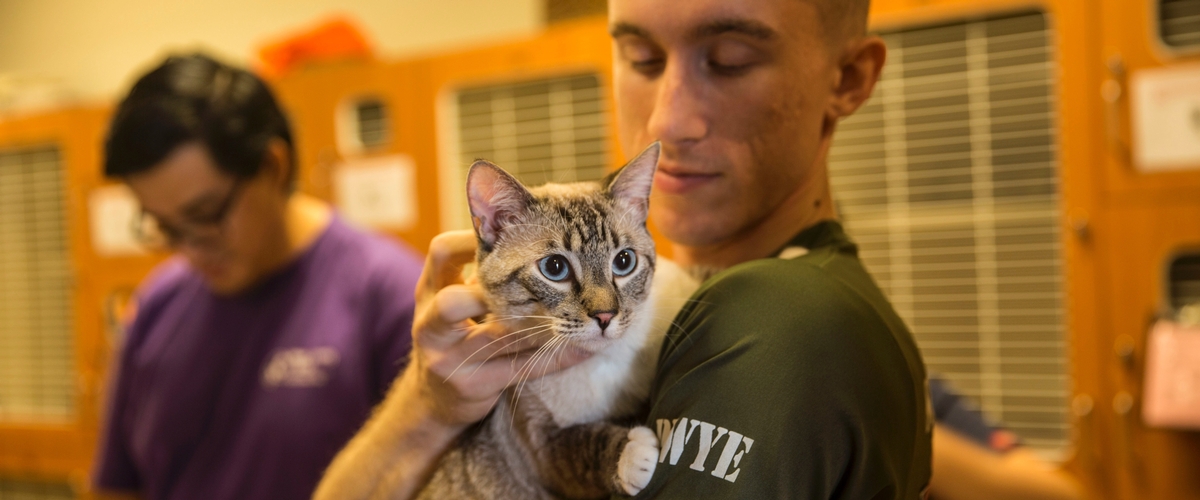 ---
Every April, Marines across the Corps trade their rifles for shovels as part of the Single Marine Program's (SMP) Days of Service Event. This year, more than 5,000 volunteers spent more than 18,000 hours in service to their communities. Each event varies according to community needs: participants spend time with Veterans, clean beaches, volunteer at animal shelters, and more. Since SMP Days of Service runs the full week, that's a lot of work.
"Volunteering helps you learn new things and meet new people," said Lance Cpl. Joshua Green. "It helps you out and it helps other people. Everyone needs a helping hand and everyone has a hand to help with." Green and the volunteers from SMP Lejeune-New River spent time at their local animal shelter, where they cleaned kennels, pens, and more. Their work allowed the shelter workers to spend more time focusing on the shelter "meet and greets" with dogs and prospective adoptive families.
For Lance Cpl. Daniel Phelps, helping out the community is another part of what it means to be a Marine. "I love being a Marine. I believe Marines just don't have to protect the front lines, but we have to help and reach out to the community and people around us. We hold ourselves to a higher standard."
There are plenty of benefits to getting involved in both volunteering and SMP, says Brian Wilson, SMP coordinator at MCAS Iwakuni. SMP volunteers in Okinawa and Iwakuni get the added benefit of being able to explore new parts of Japan and getting a chance to become more involved with Japanese locals. However, volunteers across all installations have the opportunity to meet new people and make connections. Volunteers also receive Letters of Appreciation, which can be put in their personnel files and help with promotions.
For more information about Days of Service, or to join SMP, contact your installation SMP Coordinator. If you're looking for even more opportunities to volunteer, contact your installation Volunteer Program Coordinator.