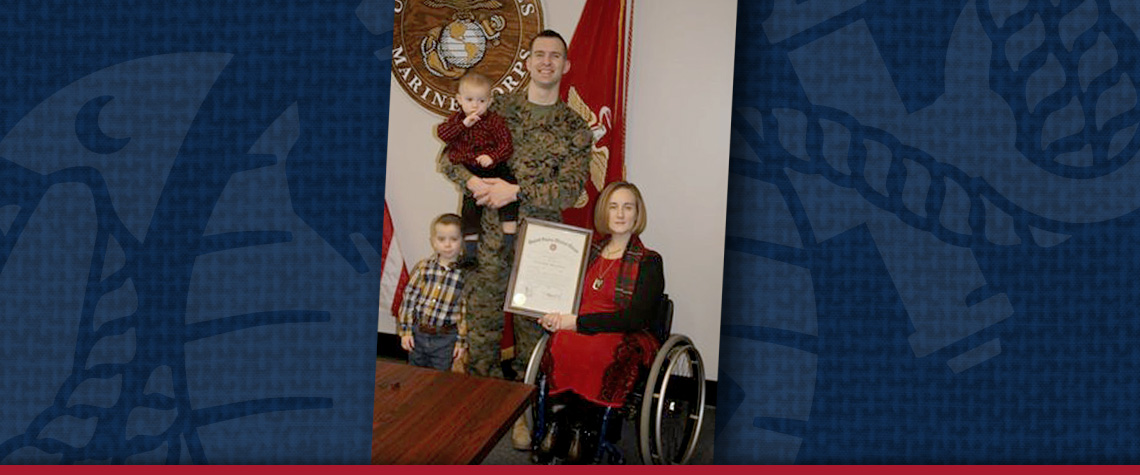 ---
Staff Sgt. James McGregor poses with his family after being promoted to his current rank at Recruiting Station Twin Cities in Fort Snelling, Minnesota, Jan. 1, 2015. He was pinned on by his wife, Melissa McGregor, and son, Ayden McGregor. James McGregor currently serves as the Regional Network Operations and Security Center Watch Chief for Marine Corps Forces Reserve.
---
The Marine Corps Operational Analysis Division commenced a study in March 2016 to learn whether Marines with family members enrolled in the Exceptional Family Member Program (EFMP) are disadvantaged or limited in their careers. That study was completed in December 2016 with results some Marines may find interesting.
The EFMP is a Department of Defense mandatory enrollment program for military family members who have special medical and/or educational requirements. The program is designed to help coordinate Permanent Change of Station (PCS) assignments to locations where family members with a diagnosed medical or educational need have access to required care.
"In 2008, the EFMP found that approximately 70 percent of Marines believed a stigma was associated with enrollment in the program," said Jennifer Stewart, the EFMP Section Head for Marine and Family Programs. "People associated EFMP enrollment with limited opportunities that would affect their potential for promotion, such as serving in a special duty assignment or at an overseas location."
In response, Headquarters, U.S. Marine Corps transformed the EFMP, to include making changes to assignment procedures, by removing categories and their associated pre-determined geographic restrictions. Now, all EFMP-enrolled Marines are eligible for world-wide assignment. These changes proved to be effective. In 2011, a Naval Audit Service Report showed that the perceived negative stigma associated with EFMP enrollment had decreased to 30 percent. Although the percentage decreased significantly, the stigma that EFMP enrollment restricted career advancement continued to linger.
The 2016 study looked at career length, highest grade achieved, and time to achieve said grade to determine if there was still any truth to the stigma. 20,692 EFMP participants (March 1989 through December 2015) were matched to all nonparticipants who were an exact duplicate at the time of enrollment for the following six characteristics: age, sex, race, years of service, grade, and occupational field. Using the most rigorous analysis available, the study determined there is little evidence of any negative impact on career progression and promotion due to EFMP enrollment.
"Not only did we find that career advancement was not distinguishably impacted by EFMP enrollment, we also learned that, on average, EFMP enrollees serve slightly longer than their non-EFMP active duty counterparts, achieve a slightly higher grade, and the majority achieve that high grade in the same or shorter amount of time than the average of their non-enrolled peers," said Stewart.
For Staff Sergeant James McGregor, being enrolled in the program has not only benefitted his family, but he also credits the EFMP with improving his career.
"My wife is the family member enrolled in the program," said McGregor. "She is paraplegic. Knowing that I am able to provide the best for my family, allowed me to put maximum effort into being a Marine. My wife is very self-sufficient, but having the program ensures that she can overcome any obstacle no matter how big. Even though my career might separate me from my family, I know that she will be provided for by not only the EFMP staff, but by the network of other families enrolled in the program as well."
During his career, McGregor successfully served as a recruiter, disproving the stigma that enrollees are restricted or severely limited from serving in special duty assignments.
"Being enrolled in the EFMP had no bearing on my assignment to recruiting duty," said McGregor. "Our EFMP representative out of Marine Corps Recruit Depot San Diego was extremely helpful with the transition. They ensured TRICARE would continue to provide care to my wife, and assisted us with house-hunting prior to getting there. My chain of command was also extremely supportive of my family."
Although the program has worked to accommodate his family's needs, the program has restricted him from an experience he wanted to share with his family.
"I had duty station preference when I came up on my first re-enlistment," said McGregor. "I wanted my family to have the same experience I did as a young Marine at my first duty station in Japan. I had orders cut to move to Okinawa upon returning from a deployment to Afghanistan. Nearly a month after my original orders were received, I was reassigned to Officer Candidates School aboard Marine Corps Base Quantico, VA. I later found out that my orders to Japan were denied through the EFMP because they couldn't guarantee we would have housing."
"Although I wish I had the chance to return to Okinawa, I don't regret the assignments that I've had during my career," said McGregor. "I've had the opportunity to work with many top-notch Marines. If it wasn't for their influence and support throughout the years, I would not be the Marine I am today."
Although the study revealed that EFMP-enrolled Marines are having successful careers, Headquarters, U.S. Marine Corps EFMP believes there is always room for improvement.
"By fostering and maintaining positive and professional working relationships with the monitors, and improving the consistency of education and training opportunities for families, I believe we can improve our services as well as dispel myths and negative perceptions surrounding the program," said Stewart.
If you have a family member with medical or educational needs, please contact your local EFMP office. To learn more about the EFMP and the variety of services they provide, click here. To read the complete report, please visit the Manpower and Reserve Affairs website at https://go.usa.gov/xXRky.