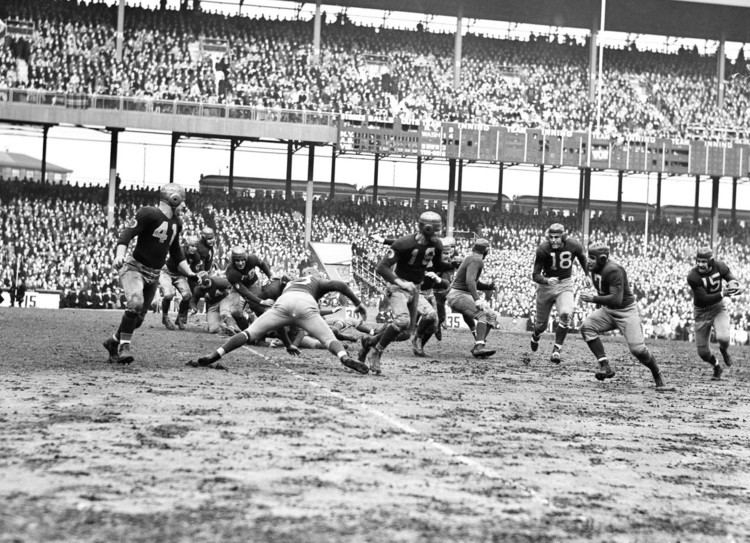 ---
Clifford Battles was born on 1 May 1910, in Akron, Ohio. Upon graduation of High School, Battles attended West Virginia Wesleyan College. During college he played football, baseball, basketball, tennis, and ran track. While at West Virginia Wesleyan College he received 15 letters in five different sports, but oddly enough was never named to in All American team in any of them. Battles however, excelled at football.
The six-foot-one, 200-pound running back was a versatile runner who could plunge between tackles like a fullback, or turn the ends and run in the open field like a halfback. As one opposing coach put it, "Battles simply could run over or around all opponents." In 1931, with the Bobcats struggling against their archrival Salem (12-6), Battles lead a second half charge that left the crowd, opposing coaches and players speechless. Battles ended up with 354 yards rushing and a combined total offensive output of 469 yards in a 51-6 triumph over Salem. Battles football skills did not go unnoticed and he continued to play following graduation.
In the fall of 1931, Battles joined the National Football League (NFL). He signed on to play for the Boston Braves, which became known as the Redskins the following season. In 1932 he led the NFL in rushing yards as a rookie. In 1933, he is the first running back ever to gain more than 200 yards in a game. He accomplished this with 215 yards on only 16 attempts against the New York Giants.
He was named as both a United Press International (UPI) and NFL first team All-Pro in 1936, when the Redskins won the Eastern Division championship. When the Redskins moved to Washington, DC in 1937 this was Battles' best and, ironically, final season. He led the league again in rushing and was named a NFL first team All-Pro for the third time.
In the last game of the season with the Eastern Division title on the line, Battles scored three touchdown in a 49-14 victory over the New York Giants. A week later in the NFL championship game, Battles scored the first touchdown in helping the Redskins to 28-21 victory over the Chicago Bears. This was the Redskins first NFL championship. The 1937 NFL championship game was Battle's final game, because owner George Marshall refused to give him a raise. Battles retired and accepted a job as an assistant coach at Columbia University from 1938 to 1943.
Battles joined the United States Marine Corps in June of 1943 where he was an Athletic and Recreation Officer stationed at Camp Lejeune, Camp Pendleton, MCB Quantico, and MCAS Miramar while he served in the Corps. During his time as a Marine Battles served in World War (WW) II. This combat experience earned him the WWII Victory Medal; American Campaign Ribbon; Presidential Unit Citation; Asiatic Pacific Area Ribbon. He continued to serve his county as a Marine Reservist in 1952. At this point he was honorably discharged and worked in the civilian realm for General Electric until his 1979 retirement.
Cliff Battles was selected into three different Hall of Fames to include his 1968 National Football League induction with fellow Marines Art Donovan and Elroy "Crazy Legs" Hirsch. Battles passed away on April 28, 1981 at the age of 70 of a heart condition.